"The Mighty Oaks"
Established in 2001, Acorn Montessori Charter School is a state approved Charter School serving students K – 8th grade.
Our mission is to continue to open the doors of understanding and knowledge for our students, families, staff and community. Acorn participates in the meal program serving two outstanding home cooked meals daily including breakfast and lunch.
We offer a before care enrichment program for a nominal fee. We also provide FREE tutoring on Tuesday mornings.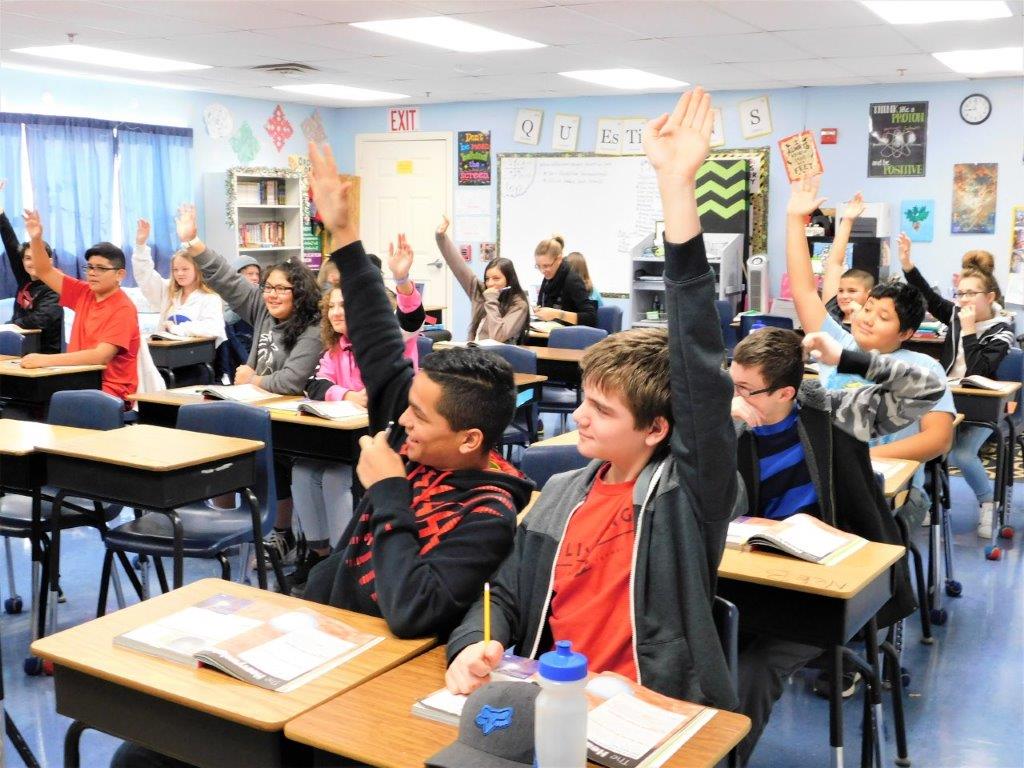 Enriched Curriculum:
Phonics, ELA, Math,, History, 6+1 Traits of Writing, Social Studies, Biology, Life Skills, Cooking, Computers, Geography and Technology. Acorn Montessori Charter Schools, in cooperation with the Arizona Department of Education, also provides Gifted Education.
Read about our Distinguished Citizenship Program
AIMS Benchmark:
Reading intervention is provided by our reading specialist, Melissa Fields, to those students needing a little extra help.
Focus:
Arizona State Standards/Structured Montessori Education philosophy is that all children are motivated from within by a natural curiosity and love for knowledge. Core Curriculum is explored in small learning groups. The educational experience includes tactile (hands on) learning materials to  encourage the student to learn through multiple senses. Weekly Saxon assessments, AIMS and ongoing observation chart the students' growth.
Extracurricular Activities:
Field Trips – Should the students at Acorn Montessori attend a field trip, written notice will be sent home of the event, and your signature on a permission slip will be required in order for your child to attend. Children will travel either in a school bus or on foot.  Acorn t-shirt should be worn on all field trips.  See Calendar.
Physical Education; Spanish; chorus; drama; mentorship program; community service; computer club; great chess club; gardening green thumbs; Arizona Learn & Serve Community Service. In addition, Boys & Girls Club works in partnership with Acorn in assisting our students with daily challenges. Some of the activities deal with bullying, peer pressure, drugs and alcohol abuse.
Bus or Van transportation is provided for field trips.
Dress Code:
Acorn Montessori t-shirt should be worn every Friday.
Students may not wear clothing that present a hazard to the health or safety of the student or others in the school. This includes, but is not limited to:
* Piercings, with the exception of the ears
* Pajama slippers, flip flops, or shoes without a back strap
* Clothing / jewelry that can be used as a weapon, including spiked collars, choke chains, belts/necklaces with metal studs
Also, students may not wear attire that will materially interfere with schoolwork, create disorder or disrupt the educational program. This would include:
* Skirts or shorts that are shorter than fingertip length
* Blouses or shirts that do not cover the midriff when arms are raised.
* Inappropriately revealing clothing such as transparent clothing, spaghetti straps, low cut blouses/shirts and pajamas.
* Exposed underwear such as bras and boxer shorts
* Pants that have excessive / revealing rips or holes
* Visible permanent or temporary tattoos
* Shoes with wheels, cleats or studs.
* Clothing or accessories that have statements, pictures or symbols that represent prejudice, obscenity, vulgarity, sex, drugs, alcohol or tobacco.
Students may:
* Wear hats and sunglasses outdoors.
* Wear modest makeup including lip gloss, eye shadow, eye liner and mascara.
Health / Sex Education Classes:
Acorn Montessori Middle School 7th and 8th grade students are participating in health/sex education classes supported in part by the Arizona Department of Health Services and facilitated by North Star Youth Partnership.  The school approved curriculum is "Choosing the Best" and information regarding this curriculum can be found at www.northstaryouth.org (click on the 'Programs' tab, then 'Health Education & Puberty').  Only students with parent permission will be allowed to participate.  Please click here to download the Parent Consent Form.
School Supplies: